For the past couple of years I have thought a great deal about the beautiful footprints poem. It's such a special piece about our constant connection to source/great spirit/God/goddess. A poem, a moment in time that is so special.
Many of you I am sure know this poem: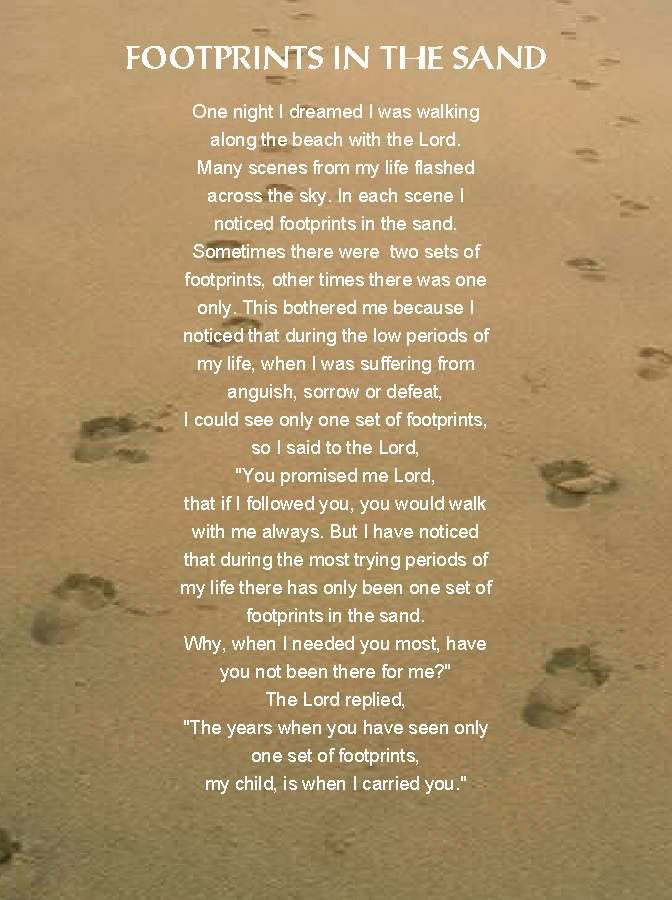 While I honor this poem immensely in its power and truth, I would like to offer another rendition of this classic.
One night I dreamed I was walking
along the beach with mother and father God.
Many scenes from my life flashed
Across the sky. In each scene I had notice footprints across the sand.
Sometimes there were two sets of footprints, other times there was only one.
This bothered me because at the low periods of my life,
When I was suffering from anguish,
Sorrow or defeat. I could only see
One set of footprints, So I said to the Mother God,
"you promised me that if I trusted a higher path, you would walk
with me always. But I have noticed that during
my most trying times of my life there has been only
one set of footprints in the sand.
"Why when I needed you most have you not been there for me?"
Then Father and Mother God replied
"My child the years where you have only seen one set
of footprints is when You remembered that
I am within you always. That you were made from my light.
You are one divine droplet of my energy.
It was during your darkest times that you chose to let your
soul remember we are never separate, nor could we ever be-
I flow within you as you do within me.
During these times of despair you triumphed
and remembered who you are."
I offer this rendition for you to remember source is always within you. You are a droplet of source energy. One unique expression of source. In those low times, reaching to find that aspect of source within us is the moment we truly begin to make OUR own footprint. Source/ great spirit/mother God/father God is always with us. Every second of every day. It is a part of us just like our blood, our dermis, it can never be split or separated from us, no matter if we believe, deny or refute that aspect of ourselves.
We don't need source to carry us, we need to remember we carry source within us.
Source always has our backs. We are limitless beings, made up of the fantastic and awe inspiring source energy. Remember who you are and what you carry within you.
Place your hands on your belly and breath for a moment and feel that unique droplet of source energy that you have within you, You are the only one on the planet with that aspect of source within you! How cool is that!!!
With every footprint in your sands of life walk knowing source is within you always in all ways!